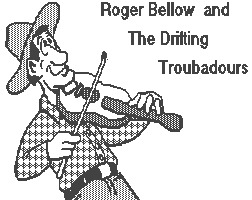 Roger Bellow & The Drifting Troubadours
Roger is a recognized authority on Country Music He is also a virtuoso on several instruments. He often finds himself in the company of other very talented musicians. The Drifting Troubadours members depend on the occasion, but with Roger's contacts, the band includes many fine musicians.
You can Click Here for a short sound clip (391kb).
Please email for details about this fine group if your event calls for the finest in Country, Swing, Western Swing, or Jazz. (We've also performed Bluegrass, and Mariachi music)